Como relatado anteriormente, a Wizards of the Coast anunciou no mês passado  que lançaria uma reimpressão dos livros originais de Advanced Dungeons & Dragons, o Players Handbook (Livro do Jogador), Dungeon Masters Guide (Livro do Mestre) e o Monster Manual (Livro dos Monstros).
Parte da venda arrecadada com os livros será destinada a construção de um memorial em homenagem à Gary Gygax.
Os livros serão lançados em abril, e com exceção das capas, serão reproduções exatas dos originais.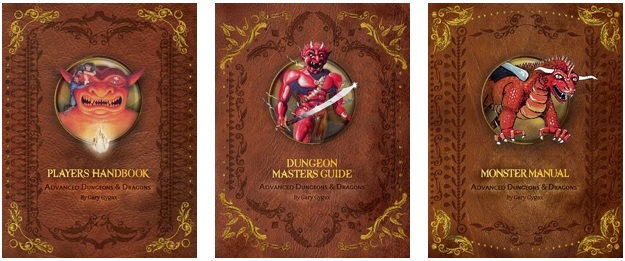 As novas capas prestam uma homenagem a arte presente nos três livros clássicos. Posso apostar que as ilustrações originais estarão presentes nos novos livros como uma "segunda capa"…
Um detalhe interessante sobre as novas capas. Os títulos originais "Players Handbook" and "Dungeon Masters Guide" omitiram o apóstrofo do "Player's" e do "Master's". Detalhe mantido nas novas capas.