A aldeia mineradora de Hardin's Point precisa desesperadamente de ajuda. Ela têm sido constantemente atacada por estranhas criaturas vindas da selva. Aventureiros e mercenários entraram na mata para enfrentar as ameaças, mas nunca voltaram. As operações de mineração e comércio estão quase paralisadas. Você tem o que é preciso para encontrar a fonte dos ataques e acabar com a ameaça?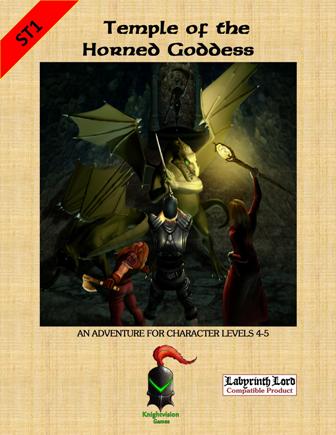 Templo da Deusa Horned é uma aventura para Labyrinth Lord projetada para personagens de níveis 4/5 nível. O módulo inclui:
– Mais de 25 páginas abrangendo terreno, dungeon e encontros;
– Mapa para da aldeia Hardin's Point;
– Mapas da selva circundante e do covil dos Skinks;
– Mapas detalhados do Templo;
– Novos monstros, itens mágicos e armas.
Compre aqui (pdf) seu Temple of the Horned Goddess.