A Fantasy Flight Games anunciou o lançamento da próxima expansão para A Game of Thrones: The Card Game, Kings of the Storm. Em Kings of the Storm, a Casa Baratheon verá um aprofundamento dos seus pontos fortes nativos, bem como alguns novos truques.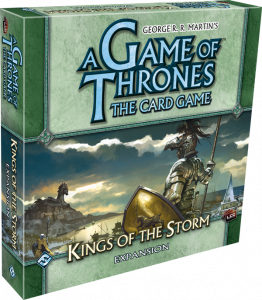 Kings of the Storm inclui 165 cards – três cópias de cada um dos 55 cards originais – com cards não somente para a Casa Baratheon, mas também cards neutros e de trama que podem ser facilmente utilizados em decks de qualquer casa.
Esta expansão também incluirá duas listagem de deck, construídas para dar aos jogadores uma amostra dos pontos fortes nativos e da sinergia da Casa Baratheon.
Estes decks foram projetados por Jonathan Benton e Wade Freeman. Com apenas um box do Core Set de Game of Thrones e uma cópia do Kings of the Storm, você pode jogar com estes divertidos e competitivos decks.