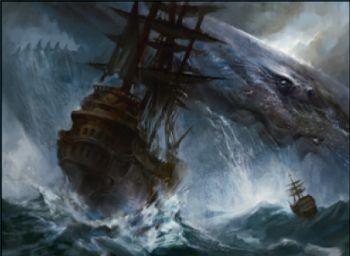 A Wizards of the Coast revelou hoje no Scapist Magazine uma prévia da carta azul Colossal Whale, que fará parte do core set 2014 de Magic: The Gathering.
Confira:
Baleia Colossal – 5UU 
Criatura – Baleia (Raro) 
Travessia de ilha (Esta criatura não pode ser bloqueada enquanto o jogador defensor controlar uma Ilha.) Sempre que Baleia Colossal atacar, você pode remover de jogo a criatura alvo que o jogador defensor controle até Baleia Colossal deixar o campo de batalha. ( Aquela criatura retorna sob o controle de seu dono.) 
5/5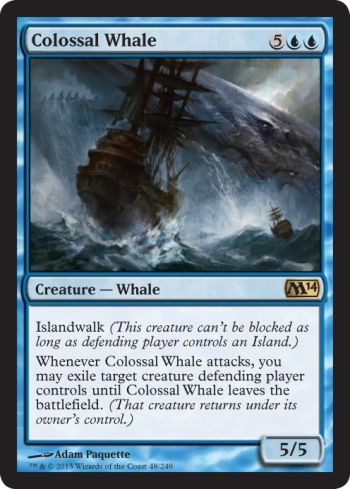 Além de aumentar o número de baleias presentes no jogo em 33% (é a quarta carta deste tipo de criatura publicada) ela traz um divertido flavor: "Engole" uma criatura do oponente a cada ataque.
Excelente pedida para torneios selados ;-)