A Fantasy Flight Games anunciou que lançará em novembro Lair da Wyrm, uma nova expansão para o jogo de tabuleiro Descent: Journeys in the Dark.
A Rainha Valyndria despertou do seu sono sedenta por tesouros e enviou seus 4 asseclas para saquear todo o reino. Cabe a você e seus companheiros heróis detê-los antes que a toda região caia em ruínas.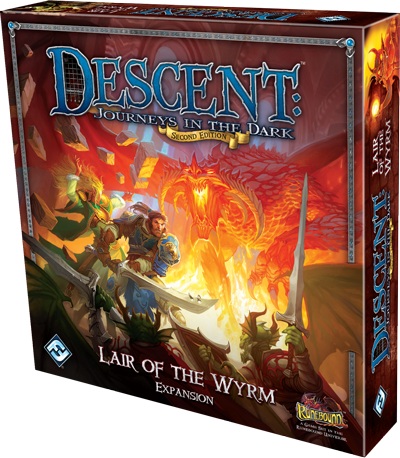 Traga ainda mais aventura para suas campanhas de Descent: Journeys in the Dark Second Edition com Lair of the Wyrm, uma expansão que apresenta novos heróis, classes, monstros, quests e muito mais! Agora os Heróis podem descobrir salas secretas e investigar rumores suspeitos, enquanto o Overlord se equipa com truques mortais nunca vistos.
Lair of the Wyrm inclui:
Um livro de regras e guia de Quests de 24 Páginas;
Dez miniaturas plásticas;
Duas Fichas de herói;
69 cartas;
Treze peças de mapa;
Quarenta e sete fichas e marcadores.