A Fantasy Flight Games anunciou que lancará em setembro The King of Ashes, uma expansão para o jogo de tabuleiro Cadwallon: City of Thieves. Em The King of Ashes as quadrilhas de ladrões começaram a explorar as profundas catacumbas da cidade em busca de tesouros. A expansão traz novas aventuras, mercenários, Arcana, equipamentos e cartas de intriga.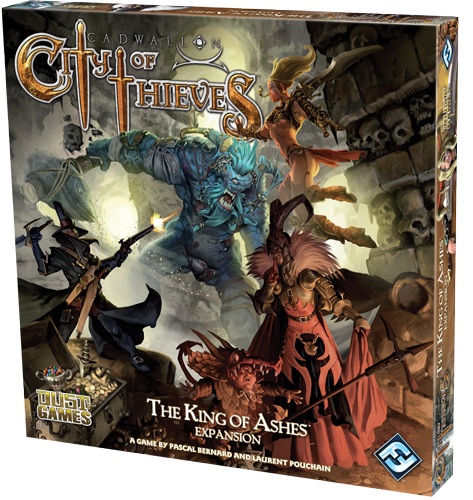 Confira a apresentação de Cadwallon: The King of Ashes
A intriga das guildas de Cadwallon: City of Thieves cresce ainda mais com as novas novas aventuras, personagens e equipamentos da expansão King of Ashes.
Rumores afirmam que as catacumbas recém-abertas contem o lendário tesouro de Sophet Drahas, e os ladrões da cidade acima agora correm para encontrar a entrada  destas catacumbas e pegar suas riquezas.
King of Ashes explora estas catacumbas, com um novo tableiro e seis aventuras que podem ser jogadas de forma independente ,ou combinadas em uma grande campanha.
As regras revisadas de King of Ashes fazem das milícias uma força mais imponente e possibilitam novas e profundas estratégias para equipamentos, experiência e mercenários, especialmente quando executadas como parte de uma campanha maior.
Compre aqui seu Cadwallon: City of Thieves.