Tower of Terror é um mega-solo de 98 páginas, escrito e ilustrado por David A. Uller, utilizando a versão 5.5 (ou superior) das suas regras do RPG Tunnels & Trolls.
Tower of Terror é ambientada na torre de um velho mago, que foi lacrada e agora é usado pelos adoradores de Ophion, o deus serpente.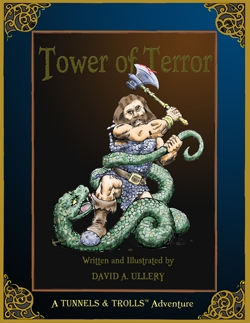 Existem duas maneiras de jogar esta aventura solo: você pode jogar as 16 aventuras curtas e individuais, ou tentar o "Trip of Terror", que envolve um total de 18 aventuras. São permitidas magias de nível baixo, principalmente para guerreiros. Apesar de "solo", as aventuras comportam mais de um jogador, basta multiplicar os adversários pelo número de participantes.
Faça aqui o download gratuito das regras resumidas de Tunnels & Trolls e compre aqui a aventura solo Tunnels & Trolls: Tower of Terror.