Este mês a Alderac Entertainment Group vai lançar The Great Clans, um suplemento para o RPG Legend of the Five Rings.
The Great Clans dedica seus capítulos aos grandes clãs do Império Esmeralda de Rokugan, enfocando as diversas famílias, histórias e culturas desses poderosos grupos.
Capítulos adicionais cobrirão o maligno Spider Clan, o regresso das Heritage Tables, e as famílias que prestam vassalagem aos grandes clãs.
As Heritage Tables permitem aos jogadores desenvolver antecedentes mais interessantes para os personagens e NPCs.
Confira a apresentação de The Great Clans:
Rokugan é um Império envolto em guerras e conflitos. Uma grande história forjada através de uma interminável rivalidade entre irmãos.
Os grandes clãs de Rokugan foram fundados pelos Kami, filhos do Sol e da Lua, e sua devoção juramentada às personalidades de seus criadores tem definido o Império.
Cada um procura ganhar terreno sobre os outros, em um reflexo contínuo da rivalidade entre Kami, rivalidade que define um Império em movimento há muito tempo.
The Great Clans leva às profundezas da psique e do funcionamento dos grandes clãs de do Império Esmeralda de Rokugan.
Conheça seus antepassados! Prove-se uma verdadeira parte do seu clã em julho deste ano!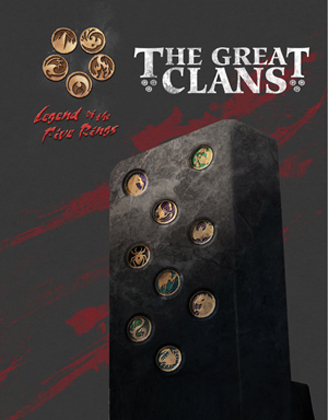 The Great Clans está em pré-venda aqui.