Encounter é uma reviste trimestral disponível para download, dedicada a apresentar material gratuito e de qualidade aos fãs do Classic Dungeons & Dragons.
Embora esta versão do D&D esteja oficialmente fora de impressão há décadas, ela ainda continua inspirando a imaginação de milhares de jogadores a produzirem material (como Labirinth Lord, da Goblinoid Games), garantindo que este clássico continue vivo na comunidade de jogadores.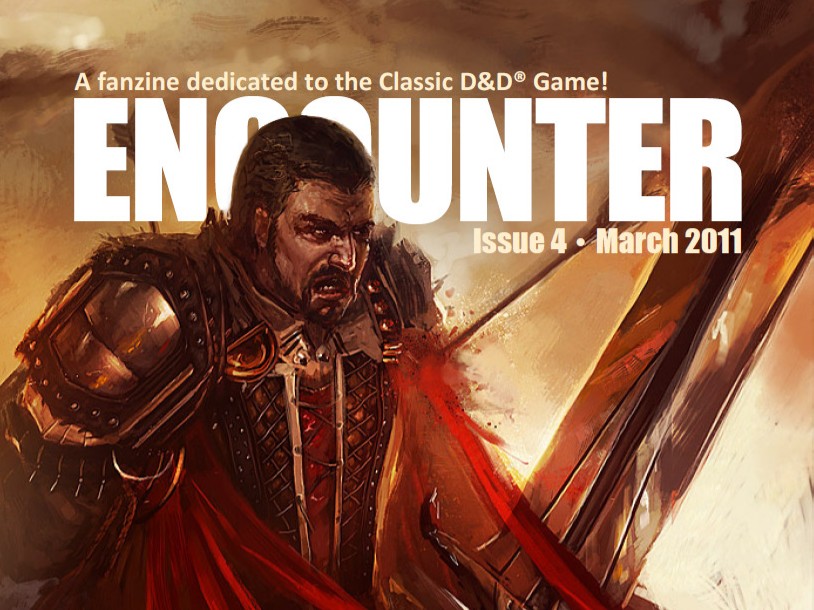 Destaques desta edição:
– Um review completo de Hammers of the God, um cenário para o mega-fuderengo Lamentations of the Flame Princess.
– Treasure Chest: uma olhadela nos mais recentes lançamentos Old School – Hunt fror the Ogre Lord, The Ruins of Tenkuhran, Sword & Wizardry, entre outros.
– The World of the Dark Crystal: Cenário detalhando o mundo de Thra.
– Knights & Wizards – D&D Clássico para crianças.
– Quest For The Enchanted Sword: Aventura pronta para Knights & Wizards.
Faça aqui o download de Encounter # 4 (botão direito do mouse, salvar como) e aqui o download das edições anteriores da revista.