A Superhuman Games anunciou o lançamento de Villains and Vigilantes Card Game no segundo semestre deste ano. Desenvolvido por Ben Swainbank, os Villains e Vigilantes Card Game usa tanto a arte quanto os personagens do V&V Role-Playing Game, heróis como Maxima, Os Cruzados, Shatterman, Condor, Os Indestrutíveis e Axiom, que lutam com seus homólogos malignos, Os Trituradores, Madame Frígia, Shadowjack e Omni-Primus.
O objetivo do V&V Card Game é fornecer toda a experiência dos quadrinhos de super-heróis: vilões e seus planos covardes para dominar o mundo, heróis se escondendo atrás de identidades secretas, fugas ousadas, capangas covarde e asseclas mutantes. Tudo isso em um jogo dinâmico, fácil de aprender e altamente estratégico, que pode ser jogado em menos de uma hora.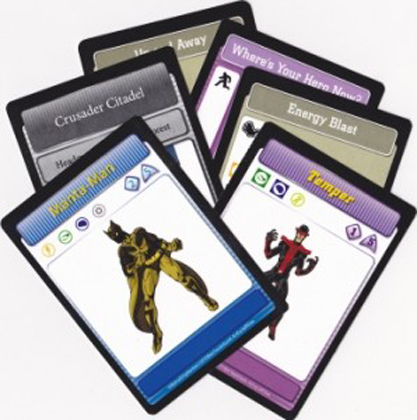 Todos os meses novos decks serão publicados, cada um deles com novas missões, novos poderes, novos heróis ou vilões. Cada deck fornecerá tudo o que um jogador precisa para mergulhar na ação de super-heróis, seja perpetrando atos diabólicos ou salvando o dia.
O Villains and Vigilantes Card Game é baseado no RPG de super-heróis Villains and Vigilantes publicado pela Monkey House Games.